Let's make your dream home a reality!
Set up an estimate for the next generation of home remodeling.
NextGen Remodeling Specialties
In-house Custom Design
With our in-house design and construction abilities, we deliver a comprehensive renovation process that bridges the gap between imagination and reality.
We Love Kitchens!
Whether your home is 100 years old or 20, we have the experience to renovate the most important room in your home.
High Quality Materials
We only use the highest quality materials and fixtures that the industry has to offer.
CHOOSING THE RIGHT CONTRACTOR
NextGen Remodeling is a licensed remodeling contractor with years of experience
We are ready to work on any type of home project – from the most complex and large scale remodeling projects to the smallest of household repair jobs.
We are fueled by our commitment to excellence and our crew will "go the extra mile" to ensure our clients are completely satisfied with the quality of our work.
We have a small in-house crew lead by Taylor Foley, owner/operator, and Curtis Calkins, project manager/designer.
Between them, they have twenty years of interior and exterior residential remodeling experience ranging from small cosmetic repairs to large additions and whole home remodels.
While we are a licensed general contractor, we specialize in designing and building kitchens and bathrooms.
Over 80 years
Combined Experience
Specializing in kitchen and bathroom design, construction and remodeling
"Recently we had a bathroom remodeled and Taylor Foley was responsible for the project from the beginning to the end. We had several special requests and he was very available to listen and to make happen what we wanted to achieve in our bathroom."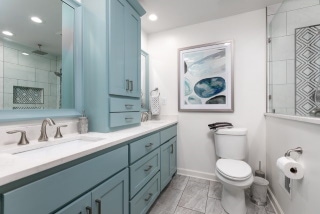 "Nextgen Remodeling worked with our plans and choice of materials and created more than we expected. Our new bathroom is beautiful.They were very professional, gave us a clear invoice, and fulfilled every promise. They cleaned up after every day, and their work was immaculate."